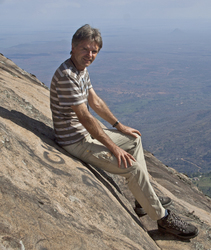 PD Dr.
Andreas Hemp
Wissenschaftlicher Mitarbeiter
Pflanzensystematik
Telefon: +49(0)924-69 809 79
Raum: NW I, 7.0 00.30
e-Mail:
andreas.hemp(at)uni-bayreuth.de
Since 1989 research in East Africa (Ethiopia, Kenya, Uganda, Tanzania) with focus on Kilimanjaro, starting with ethnobotanical studies followed by vegetation ecological studies. Main research topics biodiversity, vegetation zonation, forest regeneration, vegetation mapping, land cover change studies, palaeoecology, relationship between vegetation and Saltatoria cenoses. Founding and establishment of the DFG research unit KiLi (Kilimanjaro under global change), representative of the research unit KiLi in Africa. Collection of over 10,000 herbarium specimens from East Africa.
>>
Curriculum Vitae
>>
Publikationen
>>
Lehrveranstaltungen